Principal's Pen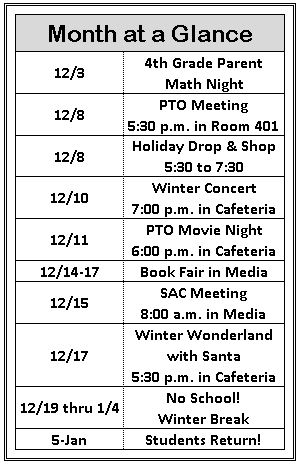 Our Great American Teach-In was a huge success.  We had participants from the community that shared their occupations with our students.  Thanks to everyone who participated.  Also, thank you for supporting our annual Turkey Trot Walk-a-Thon.  It was a fun day for all!
We have some fun holiday events planned for the month of December.  One event will be our Winter Wonderland with a visit from Santa on December 17.  During the Winter Wonderland, you can wander the hallways to see our students' holiday writing and artwork displayed on the walls outside their classrooms. As you wander the halls, you can also enjoy some cookies and hot chocolate.  Our chorus will have their Winter Concert on December 10, in our school cafeteria at 6:30 p.m.  Come listen to our chorus and get into the holiday spirit!  We look forward to seeing you at those events!
As we approach the Holiday season, on behalf of our school community, I would like to wish all our Moon Lake families a happy and healthy Holiday Season and a Happy New Year!
Elise Landahl, Principal
---
Fourth Grade Drop and Shop!
4th grade will be hosting a Holiday "Drop and Shop" during the evening of December 8th from 5:30-7:30. Parents may drop off their children and we will be providing pizza, drinks, crafts, activities, etc. so parents can get some holiday shopping done without kids. The money is going towards an end of year field trip to the Ringling Museum. Each child is $10 and additional kids in the same family are $5.
---
 Recorder Club/Chorus concert Thursday, Dec 10, 6:30 pm, MLES cafe
---

Who are WatchDOGS

( Dads  Of  Great  Students) ?

Watch DOGS are fathers, grandfathers, uncles, and other father figures who volunteer to help out our school for a day.

During the day, Watch DOGS may read and work on flash cards with students, play at recess, eat lunch with students, watch the school entrances and hallways, and any other assigned activities where they actively engage with not only their own students, but other students as well. Many school principals have reported that the mere presence of a Watch DOG dramatically reduces reports of bullying.

If you are interested in volunteering to be a Watch DOG at Moon Lake Elementary School or if you would like more information please contact Fred Monfett (fmonfett@pasco.k12.fl.us) via email or at 727-774-4600. If you would like more information regarding the national Watch DOG program visit: http://www.fathers.com/watchdogs.