Principal's Pen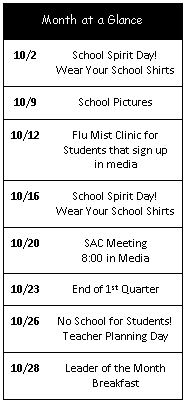 I would like to thank the staff, students and our families for a wonderful start of our school year. We kicked off our Fall Fundraiser selling Cookie Dough and Magazines in September! You can also order online or send the link to your family and friends. The link is http://www.gaschoolstore.com and here is the Moon Lake Online ID# 3799772. We appreciate your support!
You have recently received your child's progress report. Please take this opportunity to discuss your child's progress with them. If you feel you need further information, please schedule a conference with your child's teacher.
Thank you so much for joining us for Open House to visit your child's classroom, STEM Lab and touring the school! We would love to get more Watch DOGS (Dads of Great Students) volunteering on campus, so please contact Fred Monfett or Monte Werner if you are interested. We hope you will join us for our family events throughout the year!
Elise Landahl, Principal
---
Parental Notification: Out-of-Field Teaching Assignments
Individuals who are teaching out-of-field are certified in at least one area and are qualified to teach but are required to  take additional course work or testing to add a coverage/endorsement to their certificate. The state also requires a teacher to take coursework/inservice towards an English for Speakers of Other Languages (ESOL) endorsement, when the teacher is the primary language arts provider and/or reading teacher for an ESOL student.
The following teachers have agreed to teach out-of-field while completing course work/testing:  Bonnie Marquis/ASD endorsement, Carolyn Rouzer/ASD endorsement, Cori Heny/Elementary Education
The following teachers have agreed to work towards the ESOL endorsement:  Kelly Clayton, Melissa Galante, Bonnie Marquis, Marlo Morelli, Andrea Maltese, Mary O'Connell, Robin Day
---
5th Graders Headed to St. Leo's
The 5th team will be going to St. Leo University on 10/15 or 10/22. We are excited to have the opportunity to let children experience a connection between College and Career. The cost is $3 and permission slips are due by October 9th.
---
Coach's Corner to Start October 23
Coach's Corner is a chance for MLES students to get an extra P.E. on Friday mornings and help our P.E. Teachers test out new games. Sign-up for Coach's Corner is on Wednesday morning at 9:30 in front of the media. One of the coaches will take the names of children who wish to participate. Your child is not officially invited though, until they receive an invitation later on Wednesday or Thursday. Generally we'll try and accommodate each student that signs up, but if we have more than 50 kids sign up we'll have to invite some children the following week. Each invitation is good for one week and your child must sign up again to go the next week. If your child does not receive an invitation, please do not bring them. It may be that there is no Coach's Corner that week.
If your child receives an invitation, please drop them off no earlier than 8:45 that Friday morning. Please do not leave your child unless you see a coach out on the field. Coach's Corner lasts until 9:30 at which point the Coaches will walk the children to their classes.
---

Who are WatchDOGS

( Dads  Of  Great  Students) ?

Watch DOGS are fathers, grandfathers, uncles, and other father figures who volunteer to help out our school for a day.

During the day, Watch DOGS may read and work on flash cards with students, play at recess, eat lunch with students, watch the school entrances and hallways, and any other assigned activities where they actively engage with not only their own students, but other students as well. Many school principals have reported that the mere presence of a Watch DOG dramatically reduces reports of bullying.

If you are interested in volunteering to be a Watch DOG at Moon Lake Elementary School or if you would like more information please contact Fred Monfett (fmonfett@pasco.k12.fl.us) via email or at 727-774-4600. If you would like more information regarding the national Watch DOG program visit: http://www.fathers.com/watchdogs.