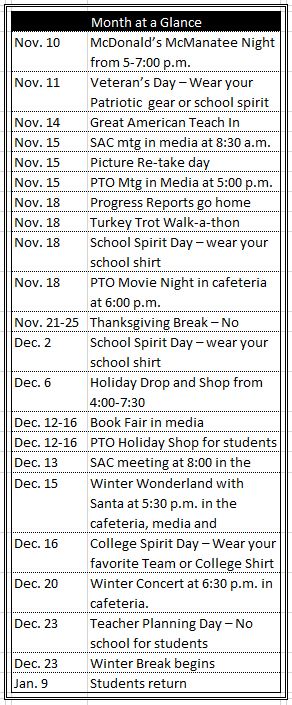 Principal's Pen
By this time, you have received your child's first quarter report card. Please spend some time with your child to discuss their progress and help them set academic goals for the next quarter. Your involvement in this process is crucial to your child's success in school. If you have any questions or concerns, this is a good time to contact your child's teacher to schedule a conference. Let your child know that you think school is important, and that you care how they are doing.
We want to thank you for supporting our family events and fundraiser such as our Camp Read-A-Lot, McManatee McDonald's Night and our Watch D.O.G.S Launch Event. Our Cookie Dough fundraiser was a great success thanks to you and your families! Your involvement in our school is greatly appreciated! Also, we truly appreciate all our volunteers who help us with so many activities and events throughout the year!
We will be holding our 8th Annual Turkey Trot Walk-a-thon on Friday, November 18th. The money will go towards purchasing updated PE equipment for our students.
We have some fun holiday events planned for the month of December. One event will be our Winter Wonderland with a visit from Santa on December 15th. During the Winter Wonderland, you can wander the hallways to see our student's holiday writing and artwork displayed on the walls outside their classrooms. As you wander the halls, you can also enjoy some cookies and hot chocolate. Our chorus will have their Winter Concert on December 20th in our school cafeteria at 6:30 p.m. Come listen to our chorus and get into the holiday spirit! We look forward to seeing you at those events!
As we approach the Holiday season, on behalf of our school community, I would like to wish all our Moon Lake families a happy and healthy Thanksgiving and Holiday Season and a Happy New Year! We are so thankful for our students and families.
Ms. Landahl
---
5th Grade Activities for the Year
Jan 12th 10AM – 3PM Field trip to Crystal Springs Preserve
May 19th 8AM – 8PM Field trip to EPCOT in Orlando
May 24th 10AM – 2PM 5th Grade Kickball and BBQ
May 25th 10AM – 12PM 5th Grade Ceremony
5th Grade Fundraisers
Candy Cane Grams will be on sale from December 14th – 21st for 50¢
Valentine Grams will be on sale from February 6th – 10th for 50¢
5th Grade Sponsored Valentine's Dance for Grades 3-5 on February 10th from 5:30 – 7:30 PM – Cost $5
---
MLES Holiday Drop & Shop
Tuesday, December 6th
4:00pm – 7:30pm
If you're a parent that is in need of some extra time to get some holiday shopping done, get the house ready for a holiday party, or just wrap up your holiday to do list….
The MLES Holiday Drop & Shop is for you!!!
MLES students will get to enjoy for an evening of
holiday crafts, activities, pizza dinner,
and fun!
ONLY $15 a child,
$5 each additional child per family
If interested print out this RSVP Form and return by Dec. 5!